Benefits of daily dry brushing our skin. It's magic!
Dry brushing is a type of Ayurvedic treatment that has been around for centuries. It's expected to have various health usefulness. Dry brushing helps by exfoliating the skin. Practitioners of dry brushing rub a brush with coarse, natural fiber bristles over their bodies in a particular way. The intention is that the coarse fibers will aid to eliminate dead skin and enhance the skin's ability to terminate toxins through the pores.
Benefits of daily Dry Brushing!
Dry brushing unclogs pores in the exfoliation process. It also helps detoxify your skin by increasing blood circulation and promoting lymph flow/drainage. Also, by unclogging pores, it's easier for the body to sweat and eliminate toxins in your system. Dry brushing may help your body discharge toxins. It may similarly help you loosen up. There's little data to assist the benefits of dry brushing, but for most people, there's also little damage in practicing dry brushing.
It does wonders for our skin and is worth trying it out!
 Lymphatic Support

Clean Pores

Reduce Acne

Blood circulation

Exfoliation

Reduce cellulite

Boost energy

Tightens your skin.
This is an Alert
Dry brushing may not be for everyone. If you have sensitive skin or a skin condition, such as psoriasis, speak with your doctor before dry brushing.
Dry brushing is thought to help the body release toxins through sweat. The course bristles on the brush stimulate the pores and open them up. This makes it easier for the body to sweat, which in turn reduces the amount of toxins flowing through the lymphatic system.
Dry brushing unclogs pores in the exfoliation process. With all the toxins going out from our body, our pores clear out and our skin gains that special beautiful glow we all desire.
Additionally, following the process of cleansing amount of acne all over the body will dramatically reduce. 
Fluids flow through the system and are filtered through the lymph nodes. If you're sick or exposed to a lot of toxins, the system may become backed up and clogged. With regular dry brushing, you may reduce this effect and improve blood circulation.
The coarse bristles can brush away dry, dead cells from the skin. This can leave your skin more smooth and soft. Similar to a massage, dry brushing may make you feel relaxed. To make the most of this benefit, practice dry brushing in a dark, quiet space.
Massage has been able to temporarily reduce the appearance of cellulite. Some claim that dry brushing can reduce the appearance of cellulite because it has similar effects on the body as massage. There's no scientific data to support this theory, and it's not a recognized treatment by most doctors.
Considering all the positive effects that it has on our body, there is a possibility your energy will boost due to toxins relief.
Last but not least, clear and healthy skin will tighten and most of us will get that younger look. Nevertheless, it takes time and constant brushing, so we shouldn't give up if many won't see results in a few of days.
How to practice dry brushing?
To dry brush, use a natural fiber brush with a long grip. The extended handle will benefit you in reaching all areas of your surface. Observe these steps:
Begin at your feet and move up your body.
Brush your skin using wide, circular, clockwise actions.
Use light tension in areas where your skin is thin and tougher pressure on thicker skin.
Brush your arms after you have brushed your feet, legs, and mid-section.
After dry brushing, take a cool shower to help remove the dry skin.
After your shower, dry off and then consider adding natural oil to moisturize your skin.
When you first start dry brushing, it's best to begin with light brushing. As you get used to it, you can increase the pressure. Avoid sensitive areas and anywhere the skin is broken.
The article delves into the benefits and techniques of dry brushing, an age-old Ayurvedic practice that has gained modern-day popularity for its holistic health benefits. Dry brushing, which involves using a brush with coarse, natural fiber bristles, is primarily known for exfoliating the skin. However, its advantages extend beyond mere exfoliation. 
The practice is believed to enhance blood circulation, support the lymphatic system, detoxify the body, and even potentially reduce the appearance of cellulite. Importance of using the correct brushing techniques and highlights several recommended products for those keen on integrating dry brushing into their wellness routine. 
While the article presents a compelling case for the benefits of dry brushing, it also advises you to approach the practice with care, ensuring they use the right tools and techniques, and to consider consulting with professionals when necessary.
A body brush is made of natural smooth wooden handles and natural bristles. Round body brushes have soft rubber massage nodules. Natural boar bristles are boiled in hot water. So they have elastic, no bad smell and do not fall out. Natural and biodegradable material is skin-friendly to the body.
You want to Get Rid of cellulite and dry skin, Stimulate your lymphatic system, or just Aid blood circulation while boosting your confidence. Carelav designed the Most Efficient exfoliating Vegan Dry Body Brush with a Cherry Wood handle for 100% durability!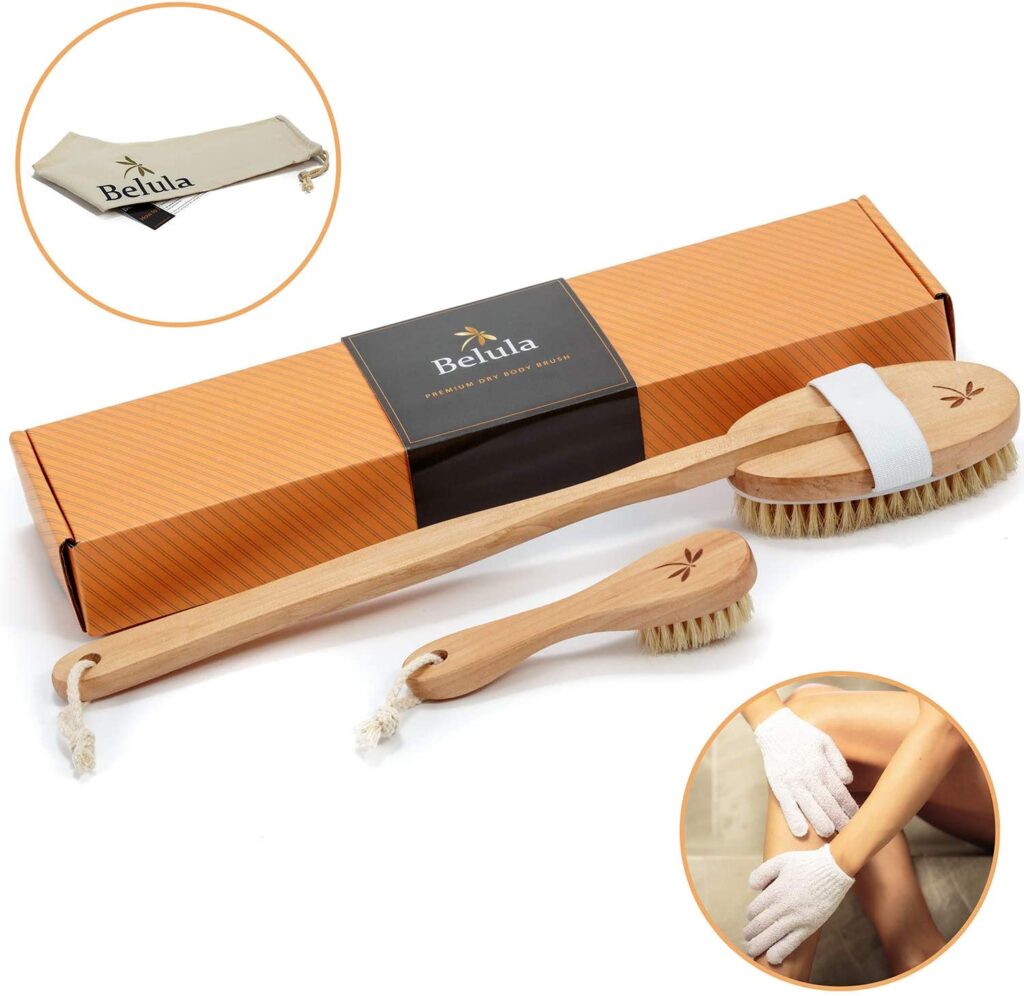 For your private ritual, use these natural bristles dry brushes to create a detoxing ritual that will relax your body and prepare you for a new day.
A stiff brush and a soft brush. A stiff bristle brush can massage the skin and deeply clean the cutin and dirt on the skin surface, which can effectively clean the skin and protect the skin. Soft hair nylon can protect sensitive skin, provide a variety of hardness options, and thoroughly clean the whole body.
Affiliate Disclosure:
The links contained in this product review may result in a small commission. This goes towards supporting our research and editorial team and please know we only recommend high-quality products.
Note: This article is for informational purposes only and is not intended to diagnose, treat, or cure any disease. Always consult a healthcare professional before taking any supplement or making any changes to your diet or lifestyle.